News & Articles
School news, events and information from Pei Lei Wushu
All the latest from Pei Lei Wushu Association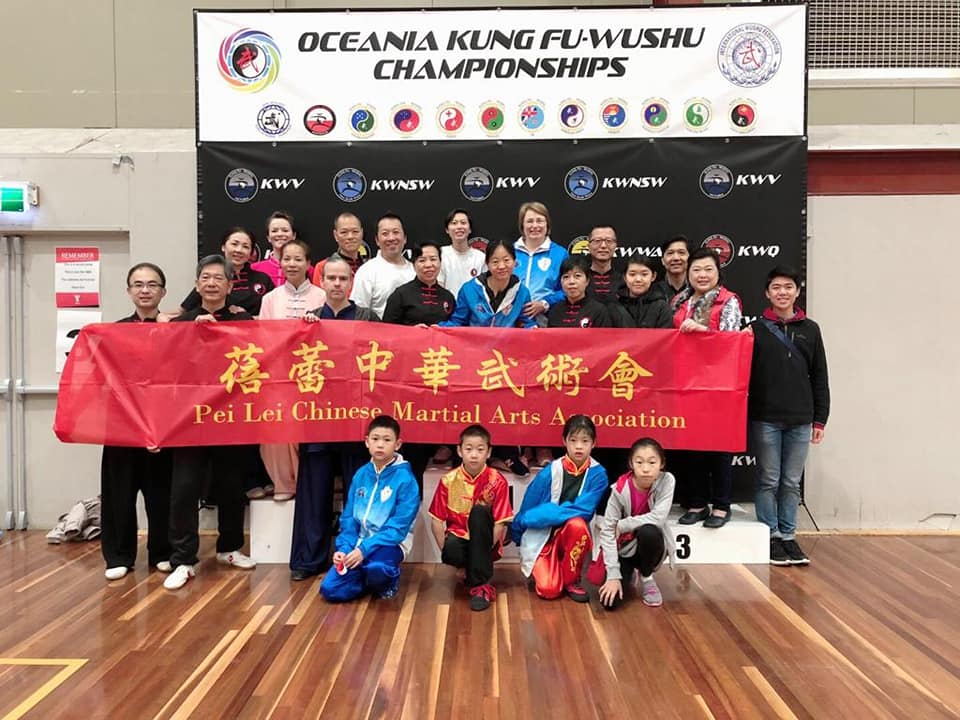 A contingent of Pei Lei Wushu students competed last weekend at the Oceania Kung Fu Wushu Championships in Melbourne in Tai Chi and Kung Fu/Wushu events. The competition was great success for Pei Lei Wushu, with our group and duilian teams both achieving Silver, and an impressive collection of individual medals as well.
Individual Results:
Gold: 16
Silver: 10
Bronze: 6
Silver for Group performance 
Silver for Duel event 
Well done to all!
Congratulations to all Pei Lei Wushu athletes who attended this year's Tai Chi Association of Australia Championships on June 2nd. All of Pei Lei Wushu's competitors performed extremely well, with special congratulations to Krista Brennan (Female Overall Champion), Stephen Lin (Male Overall Champion) and our Gold medal winning Bare-hand Yang Tai Chi group, most of whom were competing for the very first time. Congratulations and "jiayou"!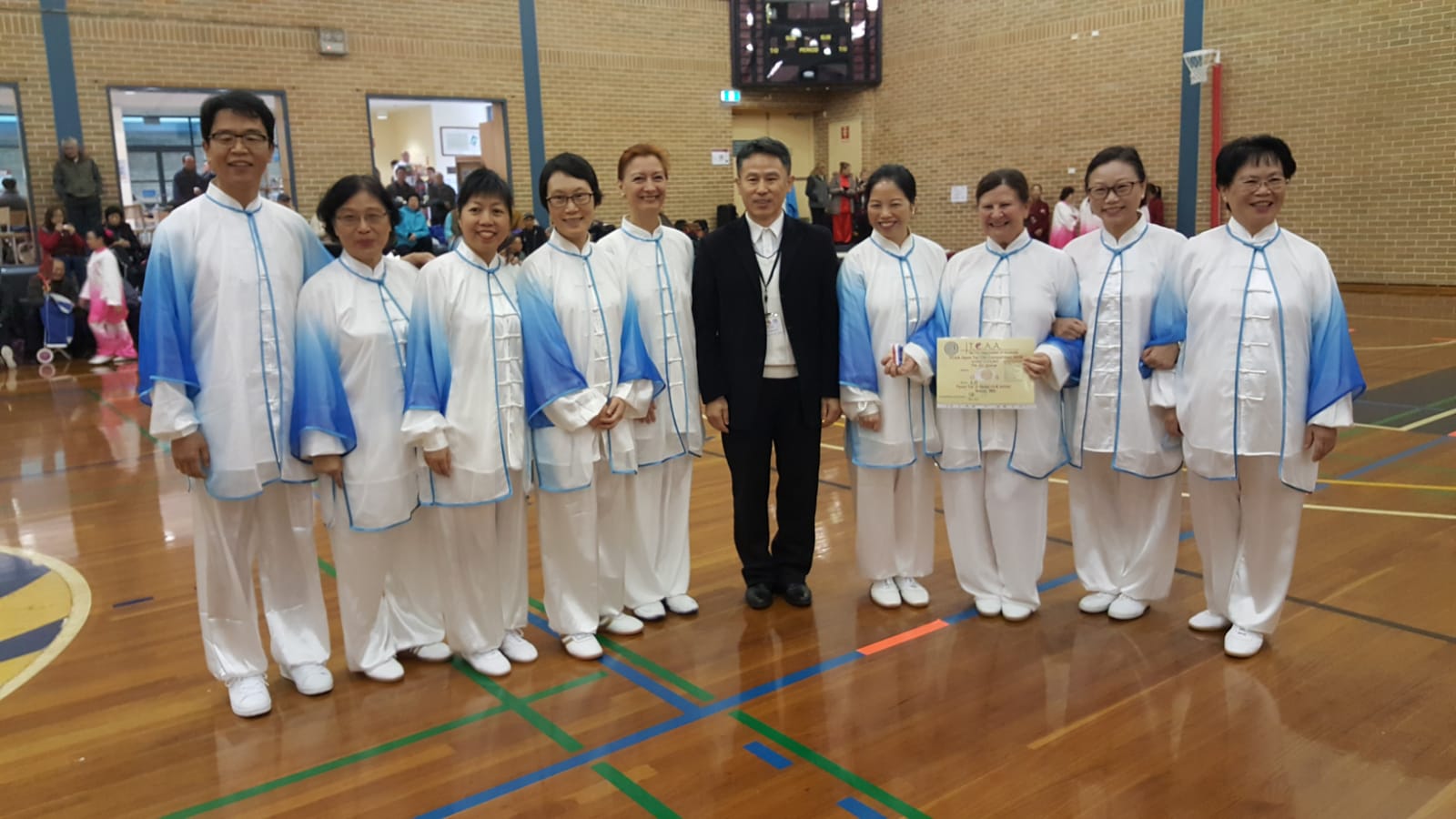 Pei Lei Wushu will be participating in a free Australia Day Chinese Martial Arts performance in Eastwood Plaza, hosted by NSW Chin Woo Athletics Association Inc.
A fun, family-friendly event featuring demonstrations from schools across Sydney including:
– Wushu
– Kung Fu
– Tai Chi
– Qigong
Celebrate a multicultural Australia Day by learning more about Chinese martial arts – or even join in!
NSW Chin Woo Athletics Association Inc is a not-for-profit organisation that aims to promote the physical, mental and cultural benefits of Chinese martial arts and contribute to Australia's harmonious multicultural society.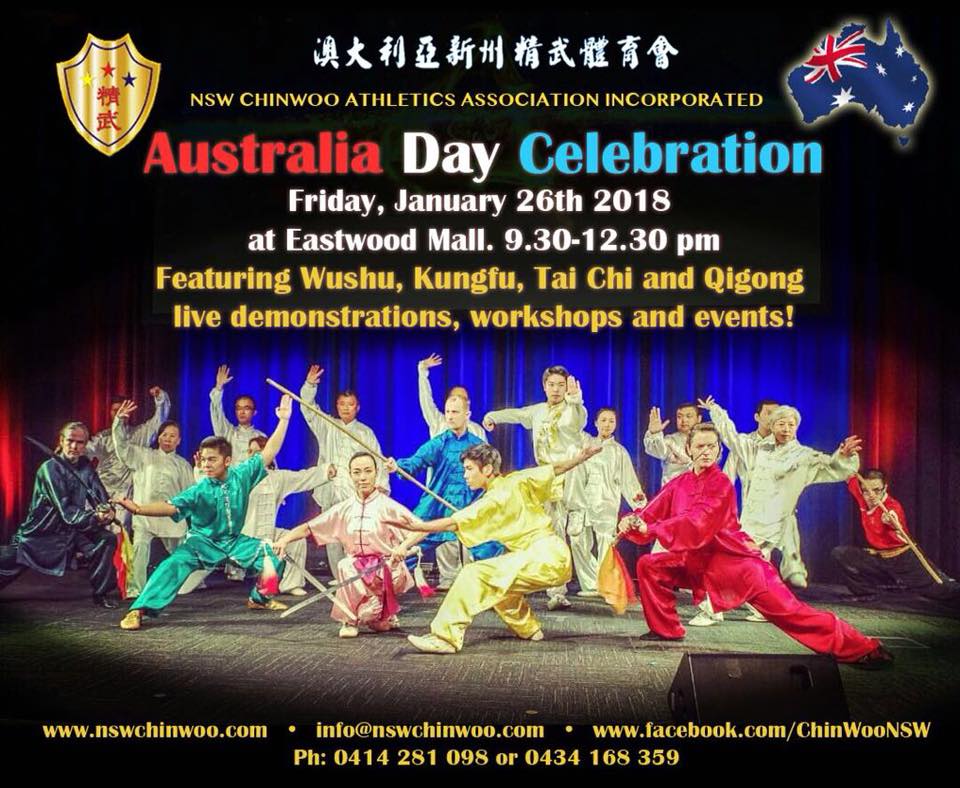 A big welcome back and congratulations to all the participants in the 2017 World Kung Fu Championships in Emeishan, China. The school's representatives performed incredibly with Australia's medal haul being bolstered by the international team's first ever Gold achievement for the Group Event for Tai Chi Sword.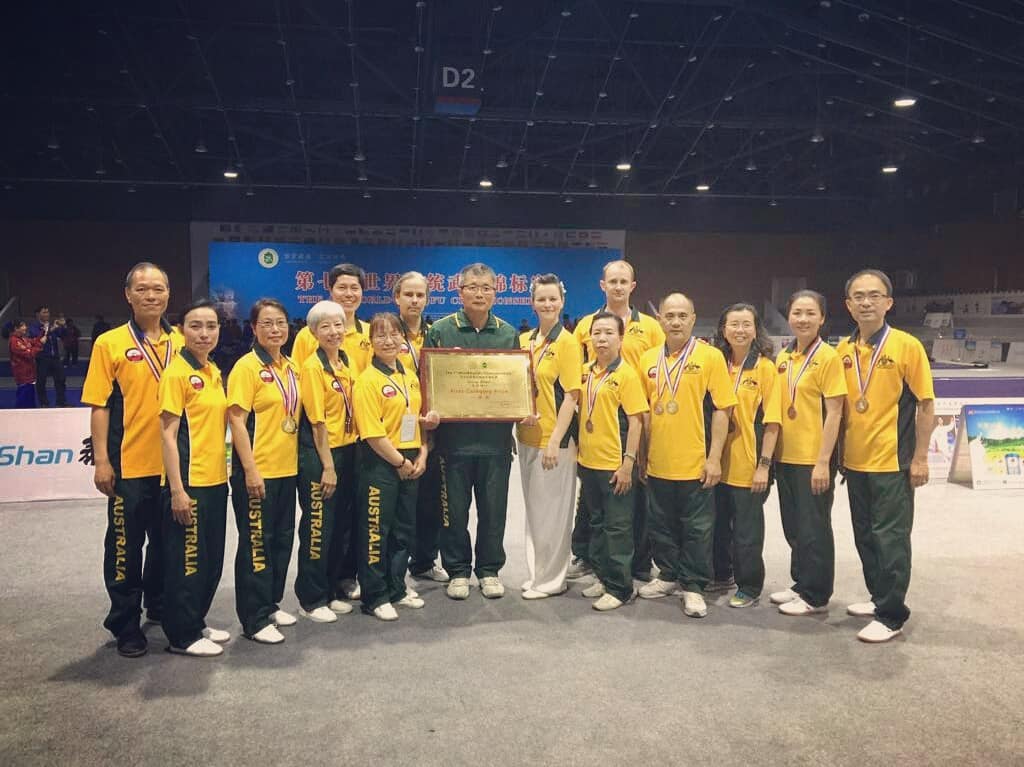 Gold:
Jimmy Chew – Yang Style Taijiquan
Stephen Lin – Chen Style Taijiquan
Sally Lin – Taiji jian
Krista Brennan / Mitchell Brown / Jimmy Chew / Cheryl Toi / Desmond Chung / Eugenia Ngau / Angela Mak / Sherman Mak – Single Weapon Group Routine
Silver:
Sherman Mak – Chen Style Taijiquan
Sally Lin – Yang Style Taijiquan
Stephen Lin – Taiji Dao
Cheryl Toi – Taiji jian
Bronze:
Krista Brennan – Chen Style Taijiquan
Mitchell Brown – Yang Style Taijiquan
May Gao – Yang Style Taijiquan
Cheryl Toi – Yang Style Taijiquan
Samuel Man – Yang Style Taijiquan
Mitchell Brown – Taiji jian
Angela Mak – Taiji jian
Rebecca Ho – Taiji jian
Jimmy Chew – Taiji jian
Gerard Donohoe – Traditional Cudgel/Staff
Photos and more information to follow.
Pei Lei Wushu and Taiji Association presents 2017 Chinese Martial Arts Celebration Banquet and Athlete Farewell
Join us for a beautiful banquet and great wushu and taiji demonstrations to celebrate our passion for Chinese martial arts, and wish good luck to our athletes who are competing the 2017 World Kungfu Championships in Emeishan, China.
This is a fantastic opportunity to meet other members of the Pei Lei school and the wider Chinese martial arts community. We are one big family and a diverse, warm community, so it will be a joyful, social evening with lots of delicious food, excellent performances and great company.
Athletes from Australia will be competing against an estimated 2000 athletes from all over the world, and members of the Pei Lei Association will be making up almost half of the Australian team! All our athletes will all be performing on the night, and they will carry your support and good wishes with them all the way to China.
Saturday, October 28th 2017
6:30pm
Marigold Restaurant,
Level 5, City Mark Building
683-689 George St, Haymarket NSW
$60 per person
Tickets must be booked in advance.
Please contact Krista Brennan at krista@kristabrennan.com.au or Shifu Alice at alice.bei.dong@gmail.com to book your ticket!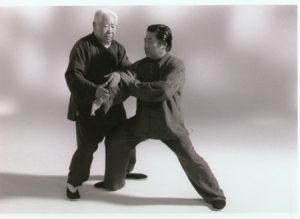 It is with heavy hearts this morning that we observe the passing of Yang Taiji Master Fu Sheng Yuan, son of Alice's master Fu Zhongwen. Master Alice and the rest of the school's thoughts are with his family and his many students throughout the world.
Fu Sheng Yuan worked tirelessly to achieve his father's dream of spreading traditional Yang style Taijiquan across the globe, including many years teaching in Perth, Australia. His loss is a significant one for the Taiji community and he leaves behind an enduring and towering legacy of achievement and service to the Chinese martial arts.
Rest in peace Master Fu.
On Sunday April 2nd, we will be starting a weekly Taiji Push Hands group at the Baulkham Hills venue. This will be an open training group for Pei Lei Wushu students to develop their skills in Push Hands and Taiji applications in a safe, supportive, friendly and most of all, fun, environment.
We will be training both Fixed Step and Moving Step. It is an opportunity for people to deepen their understanding of the Taiji forms and experiment practically with different training partners. This will also be great chance for anyone competing in the TCAA Push Hands event to get valuable practice before the competition. Push Hands events are becoming more common in competitions internationally and was included recently at the KWA National Championships in Perth.
This will be more of a group training session than an instructor-led class, but with supervision provided by instructors Ben, Krista and Mitch. Each class, we will warm-up with co-operative Yang drills before moving into "open" training. If you've never done this sort of thing before, you can be eased into it!
Cost of each weekly session will be $10-12 (depending on turnout) to help cover the venue fees.
The group will start at 10:30am at Studio@104, Baulkham Hills Stockland Mall. Access is via the ground level car park, Row S. If you are attending, please wear soft-soled shoes to avoid damaging the sprung floor of the studio. If you want to practice competitive Moving Step Push Hands, we also suggest a mouth and groin guard for safety. While there will be no intentional striking or kicks to those areas, far better to be safe than sore and sorry!
If you are interested in joining in please get in touch.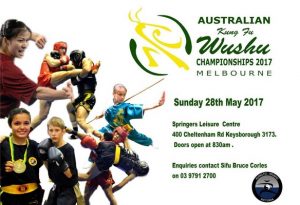 Registrations are now open for the 2017 KWA National Championships. This year's competition will be held in Melbourne on Sunday 28th May 2017, and is being used as the selection event for this year's international World Wushu Championships and World Kung Fu Championships (formerly World Traditional Wushu Championships).
Rules & Regulations: http://www.kungfuwushuaustralia.com/Events_Nationals/2017Nationals.pdf
EventBrite registration: https://www.eventbrite.com.au/e/2017-australian-kung-fu-wushu-championships-registration-31446289699