2016 Australia Day – Eastwood Tai Chi Event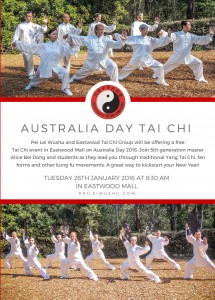 The New South Wales Chin Woo Athletics Association has carried on the Chin Woo spirit and has been working hard to promote the traditional Chinese wushu culture. Alice Dong, President of NSW Chin Woo, has recognized that tai chi exercise is worthy to advocate and promote as a community recreation activity. In the celebration of 2016 Australia Day, simultaneously promoting tai chi exercise for health and spreading the Chin Woo spirit in the Australian community, the New South Wales Chin Woo Athletics Association, Pei-lei Wushu Center and the Eastwood Tai Chi Group are working together to hold a free Tai Chi Event at the Eastwood Mall on Tuesday at 8:30 morning, January 26, 2016.
On this special day, we welcome people of different countries, skin color and cultural background to participate and experience the inner harmony and health from the tai chi exercise.
Please visit the following websites for detailed information of the event:
www.nswchinwoo.com or www.peileiwushu.com
Please also spread the news and come to support this meaningful event.
All enquiries to Alice Dong 0414281098
View all News & Articles